Woolwich Words & Sounds 2022 - Best Bits!
News
12 Aug 2022
News Story
Over three weeks in July, Woolwich Works hosted the first ever Woolwich Words & Sounds festival to kick off the summer of 2022 with live music, stand-up comedy, spoken word and family shows.
And what an epic three weeks it was!
From established names to emerging artists, some of the most exciting performers in London took to the stages in the Fireworks Factory, Beanfeast, Coopers Studio and at Gallions Park for Woolwich Words & Sounds in the Park! We're looking back on some of the best moments of the festival.

Kicking off the festival in the Fireworks Factory on Friday 15 July was the ethereal Laura Misch, bringing her sublime mix of future jazz, alternative pop and dreamy electronica, with support from Quinn Oulton whose soaring vocals filled the space. BSL Interpretation was provided by Irina Drytchak of Sign With Us.
And in Beanfeast on the same night, Malika's Poetry Kitchen returned to Woolwich Works with Arji Manuelpillai, Charlotte Ansell, Michelle Penn, and Desree, with head chef and director of MPK, Jill Abram leading the show.
The first weekend of the festival kicked into gear over at Gallions Park for Woolwich Words & Sounds in the Park on Saturday 16 July, with workshops on Hula Hooping with The Majorettes, and a Children's Mindfulness Workshop with Tangled Feet.
"Vastly accomplished, unconventional, selfless poet" (The Independent) Anthony Anaxagorou launched the first of his 'in Conversation with' sessions of Woolwich Words & Sounds, joined by Jack Underwood, before Kalpadruma Collective took to the stage. Also making their return to Woolwich Works was the spaghetti western soul sound of Dollars Trio followed by Myele Manzanza, world-renowned drummer, composer, producer and beatmaker closing out the day.
Back at Woolwich Works, Kemi Ade and bb sway gave us smooth and soulful vibes in Beanfeast on the Saturday evening.
Arthur Jeffes' much-loved collective, Penguin Cafe, landed in Woolwich on Sunday 17 July, filling the Fireworks Factory with their genre-defying evocative pieces mixing Arthur's beautiful compositions with some iconic PCO classics.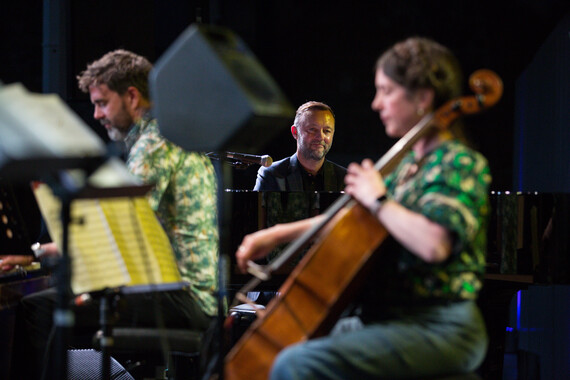 Filling the Fireworks Factory with laughs on Wednesday 20 July was headliner and host Jamali Maddix, with some of the country's top notch comedians - Alfie Brown, Lara Ricote, Leo Reich and Fern Brady who's tales of Covid recovery and her former life brought the house down!
Meanwhile, electronic-soul quartet Noya Rao slayed the stage in Beanfeast, with their mix of old and new influences and vivid sounds.
Expert arrangements, tropical sounds, and infectious rhythms were brought to the Fireworks Factory by Colectiva and Cubafrobeat ft. Dele Sosimi and Kishon Khan on Thursday 21 July. Winners of the Latin UK Awards, Colectiva kicked off the evening and soon had the crowd on their feet with their Afro-Latin groove and themes of sisterhood and female empowerment. Cubafrobeat took the stage in the second half, returning to Woolwich Works after their stomping gig back in October, bringing the vibes of Havana and Lagos to the Royal Arsenal!
Keeping the party atmosphere going, DJ legends Norman Jay MBE and Dennis Bovell brought a selection of their finest grooves and deepest cuts to our dancefloor on Friday 22 July, getting everyone in the perfect mood for the official launch of our outdoor pop-up beach and bar, Rumpypumpy!
Image gallery
A gallery carousel of 10 items
On Saturday 23 July, the roof was raised with laughter for Jayde Adams and Friends! Featuring the comedy talents of Sindhu Vee, Bourgeois & Maurice and secret special guest headliner Tom Allen, the giggles didn't stop all night. And the stand-out star of the show was BSL Interpreter Irina Drytchak of Sign With Us, who brought the house down with her inspired interpretation while keeping up with the banter of the comedians, including a brand new sign for 'human centipede' - we'll say no more!
The second week of Woolwich Words & Sounds ended with a packed day on Sunday 24 July, with a magical quest in the middle of the carnival celebrations for The Adventures of Mangolina, written by Malika Booker and developed by Discover Children's Centre, and complete with a make-your-own-fairy crafting session after the show.

Anthony Anaxagorou was joined by Vanessa Kisuule, Bristol City Poet (2018-2020) and writer of Hollow, the viral poem on the toppling of Edward Colston's statue, and author, co-curator, host, editor and subject of Radio 4 arts documentary, Butch, Joelle Taylor for the second in his 'in Conversation with' series.
Two of the UK's most genre-defying musicians united for two unique takes on time-honoured musical traditions from around the globe, with Sam Lee, award-winning inventive singer, a folksong collector and conservationist closely involved with Extinction Rebellion, and Soumik Datta, polymath composer, producer, bandleader, TV presenter and Artistic Director of the Soumik Datta Arts charity. We sat down with Soumik Datta before his show to talk about his plans and how it felt to be playing live again. Read the full interview with Soumik Datta here.

The final week of Woolwich Words & Sounds kicked off on Tuesday 26 July as legendary saxophonist Bob Mintzer, fresh from New York, and playing his iconic big band compositions and arrangements written over a fifty-year career and rarely heard live in the UK, performed with NYJO (National Youth Jazz Orchestra) for a unique Woolwich Works collaboration. The evening started with support from 'fast rising star' (London Jazz News) Emma Rawicz Quintet.

Theresa Lola, Sophia Thakur, MOAK
Sophia Thakur arrived in Woolwich with special guests Theresa Lola and MOAK for a dreamy night of Spoken Word on Wednesday 27 July. Theresa Lola's melodic and emotive poems included a mention of a Woolwich hair salon, and MOAK's joyful hosting and vibrantly sharp performance had the crowd cheering and laughing. Sophia Thakur took to the stage to close the show with beautiful and poignant messages set to guitar accompaniment - an evening that felt like a balm for the soul.
Rising star Lucy McWilliams started the show on Thursday 28 July with 'a voice as rich as velvet and killer musical instincts' (Hot Press). Headliner and South Londoner Jake Isaac gave us soulful sounds and touching moments with highlights from his new album 'Honesty', a vulnerable exploration into love and relationships as a black man in the 21st century.

A busy night on Friday 29 July, with emerging artist Tom Ford raising the roof in Beanfeast and showstopper Reuben James bringing the house down in the Fireworks Factory!
One to watch, Eddy Luna kicked us off in Beanfeast with raw, introspective lyrics about relationships and mental health, and was followed by emerging artist Tom Ford who's been working behind the scenes with other musicians such as Col3trane and Poppy Ajudha, but is sure to be on bigger stages soon with his solo work.
Faye Meana began the show in the main space with mellow vibes, before Bel Cobain took to the stage with dulcet tones and a captivating performance. Reuben James gave a powerhouse gig that saw him swapping instruments with band members and playing grooves that got the whole house going, with the audience on their feet for two standing ovations at the end of the night!
Image gallery
A gallery carousel of 9 items

Saturday 30 July brought Discover Children's Centre back to the Coopers Studio for All Aboard, featuring ship captain in the making, Rae from Woolwich Dockyard!
Kicking off the night in the Fireworks Factory was support from Emiko whose stunning vocals definitely make him one to watch. Alice Russell gave us a phenomenal show, powering out epic songs with a sensational voice that filled the room, and sneak peeks of new music that gave goosebumps and good vibes to all, with a standing ovation to finish!
Anthony Anaxagorou was back on Sunday 31 July for the final day of the festival with his third 'in Conversation with' session, featuring 2022 Poetry Book Society Summer Choice author Lucy Mercer, and Forward Prize for Best First Collection winner Will Harris, for a truly insightful discussion of themes and aspects that inform their work.

And closing the festival with a show like no other, All Fired Up, the Earth, Wind & Fire tribute band made up of the UK's very best session musicians including Tommy Blaize making his glorious return to Woolwich Works, took the roof off with classic hits like Boogie Wonderland, September, Fantasy and more! The dancefloor was buzzing, the rum punch was flowing, and it was the most spectacular end to the first ever Woolwich Words & Sounds!
With multiple shows taking place across the festival throughout the venue, we welcomed thousands of people through the doors to dance the night away to good tunes and good vibes, to listen to the words of poets sharing stories and fresh perspectives, to laugh their socks off at some of the country's top comedians, to go on adventures of storytelling and creativity, and to soak up some of the best culture that South East London has to offer.
Woolwich Words & Sounds will be back with a bang next year, so stay tuned and make sure you're on our mailing list to be the first to hear all the latest news.
We've loved sharing our spaces with artists and audiences alike, and we'd love to see your best pictures and top shows of Woolwich Words & Sounds across Facebook, Instagram and Twitter!
COMING UP
Check out the full line-up for the rest of this year across our stages, with more to be announced soon.
Want to get priority access to booking new shows? Join the Woolwich Works mailing list to be the first to know!
What's On at Woolwich Works