Arsenal of Sounds - Orchestra of Samples & Parasang
Rhythm Passport presents
London & Beyond
For the second instalment of Arsenal of Sounds, Rhythm Passport are going to let the music do the talking. The concert will showcase their 'definition' of London and its sound, featuring two projects offering far-reaching, inclusive and imaginative perspectives on the London sound.

Two collective, collaborative and far-out projects will share the stage for this show: Addictive TV's Orchestra of Samples and Pouya Ehsaei's Parasang. This unmissable double-bill presents the multimedia ensemble of "ethno-samples" orchestrated by the Addictive TV family, and the stimulating jam led by the Iranian music wizard.

There's no way to anticipate what will happen on stage throughout the evening. Both Orchestra of Samples and Parasang are one-off musical journeys welcoming elements and inspirations from all over the globe and counting on visionary interpreters.

Orchestra of Samples
Orchestra of Samples, described as "ingenious and compelling" by The Times and "a glimpse into the very essence of music" by Cultured Vultures, is the acclaimed live performance by artists and ethno-sampling mavericks Addictive TV.
A unique musical journey without borders, the team behind it filmed improvised recording sessions with hundreds of musicians around the world over the last ten years, then ingeniously sampled and spliced them all together to create a music of extraordinary fusions.
Known for their pioneering use of audio/visual sampling and their innovative live cinema performances, Addictive TV take you on a musical sampling adventure via Senegal, Kazakhstan, China, Colombia, India and many other countries, connecting cultures and bringing musicians with their instruments together, from traditional and rare to newly-invented.
Immerse yourself in mesmerising rhythmic dialogues with live musicians on stage, sampled musicians on screen and discover instruments you never knew existed!
Parasang & Pouya Ehsaei
Parasang started as an exploration of London's diverse musical communities and is now investigating similar possibilities on an international level. It is led by Pouya Ehsaei on stage with an all-hardware setup. The series draws influence from diverse musical communities, inviting guest musicians to improvise and interact with electronics. The series is co-curated by Pouya Ehsaei and Harry Follett of Manana//Records.
Pouya Ehsaei is an Iranian musician, producer and artist residing in London. Besides his solo experimental sound projects, he is involved in various collaborations with dancers, performers and other musicians. He is the founder and the leader of the band 'Ariwo' and founder of 'Parasang', where he collaborates with musicians from London and around the world to perform spontaneous, dark and hypnotic live shows.
His sound spans many genres: breakbeat, jazz, hip-hop, Afro-Cuban, techno, Iranian folk music, and he has performed at Barbican Centre, Southbank Centre, Royal Albert Hall, Village Underground and the Royal Academy of Arts in London as well as several festivals of music and performance including Womex, Womad, Line Check, Boomtown and SPILL.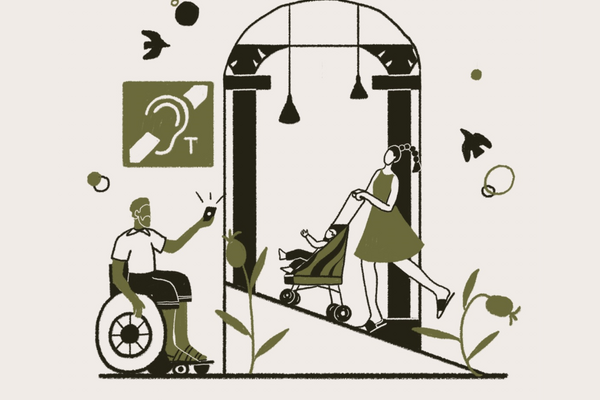 Carers & Companions
We offer a free Personal Assistant / Companion ticket for every access booker who needs one.
Find out more