Arsenal of Sounds: Afro(in)fusion with Matondology RIOT + Seby Ntege & Band
Rhythm Passport presents
A full-immersion in African sounds, presented by Rhythm Passport
At its first four instalments, Arsenal of Sounds has travelled around Europe and crossed the Mediterranean to reach its African shores. Now, it's time to explore the African continent's music by presenting an evening of Pan-African sounds.

Congolese singer-songwriter and bass player Mulele Matondo will be bringing the 'sacred rhythmic fire' of Matondology RIOT, an explosive jam-session moving from deep, drum and bass vibes to psychedelic jazz.
To set the mood, Ugandan multi-instrumentalist and composer Seby Ntege will revive the traditional Busoga repertoire, spicing it up with vibrant Afro-soul influences.

Matondology RIOT
Matondology RIOT is an explosive, semi-improvised live performance led by Mulele Matondo. Their shows are a sublime and joyful exchange of grooves and moves between a group of incredible musicians, playing with the freedom to go anywhere.
Their shows can go from deep, drum and bass vibes to psychedelic jazz, to heavy tribal beats.

The project began in 2020 when Mulele started nights performing with whoever was available. Spontaneous, 100% improvised, unrehearsed jams by musicians so good you wouldn't know that not a single note was prewritten. Audiences loved it.
Over two years of gigs and festivals, testing out guitar licks, bass grooves, horn lines, conga rolls, audience singalongs, and group dance moves, the show evolved into a set of tried and tested crowd pleasers. The line-up settled to a core six-piece of talented and committed players, often joined by brilliant visiting musicians.

Matondology RIOT has a live EP lined up for 2023.

'Incredible musicianship'

Cery Matthews, BBC 6Music
Seby Ntege & Band
Seby Ntege is a uniquely charismatic singer and songwriter from the Busoga region of eastern Uganda renowned for producing some of East Africa's best multi-instrumentalists. He is himself a master of half a dozen traditional instruments, including the akogo thumb piano, endongo lyre, adungu harp, and the one-stringed fiddle called the endingidi.
Born into a musical household, Seby joined his family's band Nile Beat Artists aged 13, introducing him early on to the international stage and touring as an instrumentalist and dancer.
Relocating to London in his twenties, Seby quickly gained respect as an ambassador of traditional Ugandan music, eventually gathering a multicultural band around him, and distilling his journey into a highly autobiographical debut album, described by Seby as 'a musical memoir of 15 years of living in the UK'.
Seby's debut album Five Notes received praise from BBC World Service, Resonance FM and BBC London, leading to live appearances at WOMAD and Latitude festival, and a 10-date UK tour supported by Arts Council England.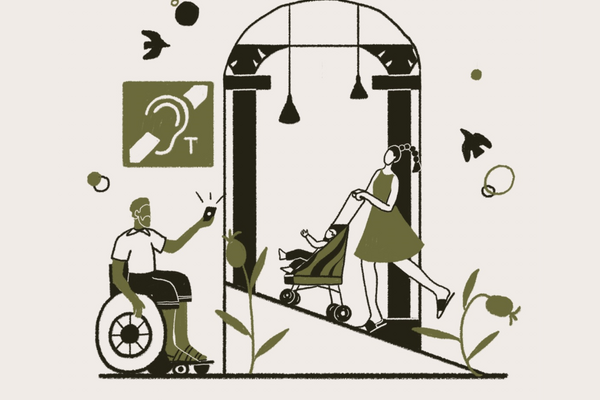 Carers & Companions
We offer a free Personal Assistant / Companion ticket for every access booker who needs one.
Find out more