Arsenal of Sounds: Lokkhi Terra + Bajabaah
Rhythm Passport presents
Broaden your musical horizons to Bangladesh and Nepal
The April Arsenal of Sounds, our 'every first Friday of the month' series supported by Arts Council England, brings us to Bangladesh and Nepal. This concert will shine a light on the music traditions of those countries, and show how the London music scene has welcomed, integrated and eventually reshaped and expanded on those sounds.
Lokkhi Terra and Bajabaah are both London-based groups who brought Bangladeshi and Nepali music to the UK, and opened them up to the world, featuring elements from Cuba and the Caribbean, Western Africa and the British capital itself in their compositions.
Lokkhi Terra has become one of the most appreciated and danced to 'fusionistas' in the UK, blending Bangladeshi folk with afrobeat, rumba and reggae, while Roshan Gurung of Bajabaah is an intriguing, up-and-coming musician, harmonising traditional Nepali repertoire with electronica, and experimental beats.

Lokkhi Terra
Described by Songlines as 'probably the world's best Afrobeat-Cuban-Bangladeshi group', London-based Lokkhi Terra released their debut album No Visa Required in 2010 and have been tearing up the musical rule book ever since.
The band is made up of musicians with some serious pedigree - they're led by pianist Kishon Khan (Hugh Masekela, Gilles Peterson's Havana Cultura), feature the Godfather of British Asian percussion Pandit Dinesh, Bellowhead's Justin Thurgur on Trombone, and Graeme Flowers on trumpet. The line-up is completed by Cuban maestros Oreste Noda (Ska Cubano) on congas, and bassist Jimmy Martinez (Asere), alongside guitarist Phil Dawson (Hugh Masekela, Tony Allen) and drummer Tansay Omar (Bjork). To add to this impressive list, Bengali singers Sohini Alam, Aneire Khan and Aanon Siddiqua sing alongside Cuban vocalist Javier Camilo.

'The multicultural settings effortlessly encapsulate 21st-century London. Traditional songs from Bangladesh collide with Latin rhythms, township jazz, funk and ambient shades, all seasoned with a lilting pop sensibility… Gold medals all round.'

Sunday Times
Bajabaah
Bajabaah is a Nepalese folk project lead by bass player, composer, improviser, and producer Roshan Gurung. Originally from Nepal, Roshan first came to the UK to immerse himself in the music of Miles Davis, Charlie Haden and Ornette Coleman while studying jazz at Leeds College of Music.
Mesmerised by their use of simple folk and blues elements in jazz to produce complex works that could touch people deep within, he set forth to recreate the folk melodies he grew up with, and to tell his own story in a new, contemporary way.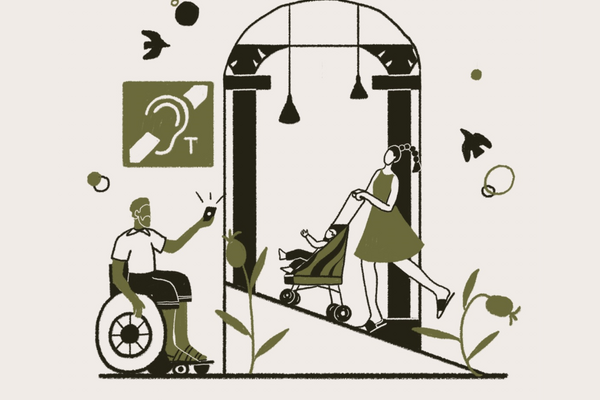 Carers & Companions
We offer a free Personal Assistant / Companion ticket for every access booker who needs one.
Find out more