Tara Cunningham + Maria Grapsa
W.Led Jazz Series, co-curated by Pat Pascal and Woolwich Works
Part of the EFG London Jazz Festival 2022
Celebrate the 30th anniversary of the capital's biggest pan-city music festival at this concert showcasing two emerging stars of London's new jazz scene.
Tara Cunningham
Tara Cunningham is an instrumentalist and composer based in London. Her work as a band member, collaborator and improviser has been described as having a "distinctive style that draws on both jazz and avant-rock... genuinely impressive" (Ian Mann - the Jazz Mann).

Now making her mark on the UK music scene, Tara has been a collaborator in multiple projects including industrial 5-piece 'The Private View', noise band 'In Tongues', avant-jazz sextet 'Tenderhost' and most recently trip-hop group 'Red Snapper'. With these and many more she regularly performs in London's most celebrated venues, collecting praise from audiences, peers and critics alike, with a versatile and evolving skillset, but first and foremost "a wonderful guitarist" (Steve Mead - Manchester Jazz Festival).
Maria Grapsa
Piano song, improvisation and modern jazz writing are the means that Maria Grapsa portrays her journey through the interior. As a classically trained, explorative jazz musician, she empowers her sextet to flow free form through original compositions; steam hard in tenor jazz and intricate, emotionally-charged cinematic ballads. Maria's Greek roots and folk, middle-East, Latin influences, all meet the jazz tradition in a unique way.
Each performance unites a band at the edge of unfolding discoveries and projects shapes that are round and together – as a unit they defy dynamics from pin drop knife edge solo performances from the horns to roars from the rhythm section. UK band features Becca Wilkins (vocals), Anna Chai (tenor saxophone), Joe Twaites (alto saxophone), Billy Pod (drums), Sam Ingvorsen (double bass), Maria Grapsa (piano, compositions & arrangements) – the group is already making an impact in prestigious venues such as Southbank Centre, Birmingham Symphony Hall and Pizza Express Live Soho. Watch out for the album landing autumn 2022.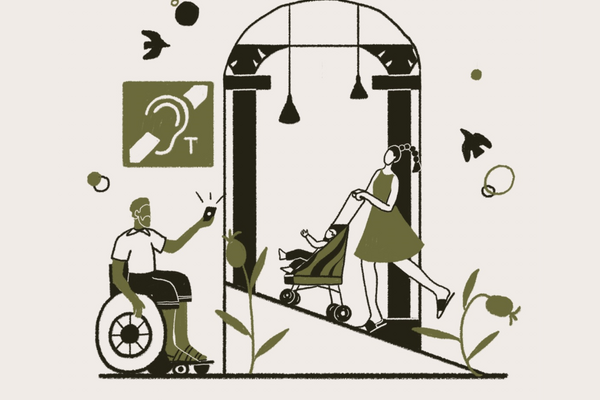 Carers & Companions
We offer a free Personal Assistant / Companion ticket for every access booker who needs one.
Find out more