Sophia Thakur + Theresa Lola + MOAK
Woolwich Works presents
Woolwich Words & Sounds 2022
Best-selling writer and performance poet-sensation Sophia Thakur brings her unique live show to Woolwich Words & Sounds, alongside two of the UK's most exciting spoken word artists along with her.
Sophia Thakur
Sophia Thakur climbed onto the stage at the age of 16 with a refreshing and intimate take on traditional poetry, and captivated a room full of career professionals. Since then, she has pushed the boundaries of poetry to inspire varied audiences across the world from Glastonbury to Ted Talks to countless TV and radio stations.
Sophia's powerful messages on mental health, diversity, politics, self-expression, empowerment and wellbeing has led to participation at events organised by Google, Accenture, Nike, The Guardian, The Royal Family, Channel 4, BBC, Viacom and the Liberal Democrat and Labour parties. Many of whom she has continued to work with. Sophia has sold out three groundbreaking headline shows across the world, including her book launch at the Jazz Cafe in London.
Sophia's latest book Superheroes about inspiring stories of secret strength with Stormzy's Merky Books went straight to the bestseller list after launching.

Her debut book Somebody Give This Heart a Pen became a #1 Bestseller. The collection of stories-in-verse has been named the 'the only key to empathy', and has been publicly supported by Accenture, The Bookseller, MTV, London Times Magazine, Stylist, Google and Stomrzy's Merky Books team.

Online, Sophia has cultivated a passionate following across her social media channels, inspiring millions of watchers to pick up a pen or type their own story. Sophia's mission is to push the boundaries of poetry and literature by taking spoken word into a more commercial space.
Merging the sounds of poetry with afrobeats, jazz, neo-soul and Colombian reggae, Sophia has become an expert in telling our stories back to us in a way that entertains, provokes and evokes empathy and compassion.

She has most recently been announced as the Youth Creator and Educator Ambassador for Jordan's Jumpman23 women's squad where she will work on a series of activities throughout the year to empower communities.
Theresa Lola
Theresa Lola is a British-Nigerian poet based in London. She has held poetry residencies at places such as Wellcome Collection, Bethlem Museum of the Mind, and St Paul's Cathedral‬. She has previously been commissioned by Selfridges, Tate, and National Gallery. In 2021 she completed an Mst in Creative Writing at University of Oxford. Her debut poetry collection In Search of Equilibrium is published by Nine Arches Press.
MOAK
MOAK is a spoken word performer, songwriter and a battle rapper who is best known for his lyricism and ability to engage crowds instantaneously with witty wordplay, humour, thought provoking ideas and a commanding stage presence. His art covers various themes through his lens as a black male living in the UK and is inspired by the likes of George The Poet, Kojey Radical, Suli Breaks and Kendrick Lamar.
Since picking up the pen back in 2013, MOAK has developed in his craft, blessing stages across London including the Roundhouse, Criterion Theatre, Old Bailey, Peckham Theatre, Streatham Hideaway, Rich Mix and more. His growth seen him be nominated for Poet of the Year twice by the UK Entertainment Awards. In 2019, he released his debut EP entitled This Is Us, from which the poem Barbershop was featured on BBC Radio 6Music. Aside from poetry and music, MOAK has recently tried and tested his pen in the world of Battle Rap performing on platforms such as Art Of Rap UK and Don't Flop which is seeing him gain much deserved admiration and acclaim as a wordsmith.

'Uplifting, brave and quietly devastating, Sophia Thakur's new collection of poetry is so resonant - whatever your age, background or experiences - she touches on the universal experiences we all know...Give your heart this book.'

Stylist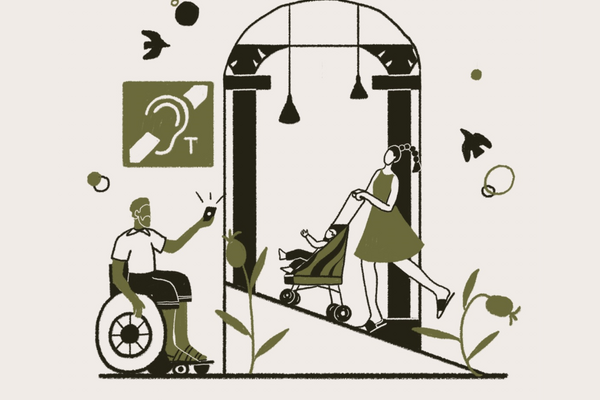 Carers & Companions
We offer a free Personal Assistant / Companion ticket for every access booker who needs one.
Find out more