Queer Jazz - Eliza Oakes + Faker Villain
Woolwich Works, Tina Edwards & Jelly Cleaver present
Kicking off our celebration of LGBTQIA+ jazz artists in London
Eliza Oakes
Born-and-bred South Londoner Eliza Oakes is a vocalist, songwriter and artist armed with her independently released, self-produced debut EP An Intuition, released in 2021.
Sparking interest from all spectrums of the music media, such as Clash Magazine, Soho Radio, Worldwide FM and Hoxton Radio, Eliza has gone on to perform her music in venues like Omeara London, Windmill Brixton, as well as selling out her first EP launch gig at Bermondsey Social Club. She has also performed with musical friends Black Country New Road and at Ronnie Scott's, The Jazz Cafe & Brick Lane Jazz Festival in various musical projects from the jazz scene.

Now supported by the PRS Women Make Music Fund, truth and originality are at the forefront of Eliza's exploration of the voice, song-writing and sonic identity as she plans to release her second EP Weight Of The World later this year.
Faker Villain

Faker Villain may have a villainous name, but this trio is a force of musical heroes. Faye Thompson, the Sonic Wizard, conjures supernatural sounds from her saxophone and bass clarinet. Kavi Maraj, the Tonal Warrior, wields his four-stringed battle-axe with earth-shaking power. Dillon Harrison, the Rhythmic Rogue, adds an unpredictable edge on drums and percussion.
Their improvised performances are fresh, spontaneous, and utterly captivating, drawing inspiration from the secrets of the past and the mysteries of the unknown to transport listeners to fantastical lands of Electronica, Jazz, Hindustani Classical, Ambient Experimental, Progressive Metal and many other far-flung places.

Featuring:
Faye Thompson on saxophone, bass clarinet and electronics
Kavi Maraj on bass and electronics
Dillon Harrison on drums and percussion
Discussion Panel

The hosts of Queer Jazz, Jelly Cleaver and Tina Edwards, present a panel to kick off launch night, featuring vocalist Luca Manning and artist/promoter Toby Corton (Sounds Queer).
They will be dealing with questions such as:
What kind of environment does jazz provide for a queer scene?
How do we nurture one and what would that look like?
Input from the audience will be most welcome. Approximate length: 45 minutes.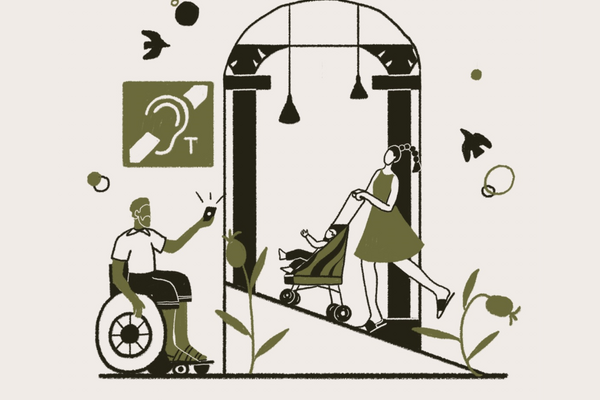 Carers & Companions
We offer a free Personal Assistant / Companion ticket for every access booker who needs one.
Find out more