Malika's Poetry Kitchen
Woolwich Works presents
With Arji Manuelpillai, Charlotte Ansell, Michelle Penn, Desree and Jill Abram
This July, Malika's Poetry Kitchen returns to Woolwich Works for Woolwich Words & Sounds.
Enjoy poems cooked up in the Kitchen with Arji Manuelpillai, Charlotte Ansell, Michelle Penn, and Desree. Stirring the pot will be head chef, Jill Abram, Director of MPK since 2010.
Malika's Poetry Kitchen is a writers' collective founded in Brixton by Malika Booker and Roger Robinson in 2001. It nurtures the writing, performance and careers of poets by emphasising craft, community and development. This lively, London-based community of dedicated poets has nurtured some of the finest poets to emerge in the UK this century, and inspired similar Kitchen models to be set up worldwide, from Chicago to Delhi, creating an international MPK family.

Arji Manuelpillai
Arji Manuelpillai is a poet, performer and creative facilitator based in London. For over 15 years he has worked with community arts projects nationally and internationally. Arji was a Jerwood Arvon Mentee working with Hannah Lowe, after which his debut pamphlet, Mutton Rolls, was published by Outspoken Press. In 2021 he was awarded a Develop Your Creative Practice Grant from Arts Council England to research and develop a new book discussing extremism and radicalisation in its many forms. This collection, Improvised Explosive Device, is due out in October with Penned in the Margins.
Charlotte Ansell
Charlotte Ansell's third poetry collection, Deluge, was published by Flipped Eye in November 2019 and was a PBS winter recommendation. Her work has appeared in Poetry Review, Mslexia, Butcher's Dog, Prole, Algebra of Owls and anthologies including These Are The Hands – an anthology of poems by NHS workers. She has won many competitions, including Red Shed, BBC Write Science and Watermarks, and was shortlisted in the Poetry Film category of the Outspoken prize for poetry in 2017. Charlotte is the recipient of a Royal Society of Literature Award 2020, with MPK sister Janett Plummer, for the project Chosen? enabling adopted young people to explore their experience via creative writing workshops.
Michelle Penn
Michelle Penn grew up in the US and worked in Paris for seven years before moving to London in 2005. Her book-length poem, Paper Crusade, was published in June by Arachne Press. The chapbook, Self-portrait as a diviner, failing, won the Paper Swans Poetry Pamphlet Prize and was published in 2018. Recent poems have appeared in journals on both sides of the Atlantic, including The London Magazine, Bad Lilies, PN Review and Tentacular. She plans innovative poetry/art/music events as part of Corrupted Poetry, which guest-edited Finished Creatures, issue 4 in 2020. When she's not writing poetry, Michelle works on interpretation projects for museums and cultural sites worldwide.
Desree
Desree is an award-winning spoken word artist, writer, playwright and facilitator based in London and Slough who explores intersectionality, justice and social commentary, occasionally throwing in a poem about being hungover. She is Artist in Residence for poetry collective EMPOWORD and her poetry has been published in Wetgrain Poetry, Ink Sweat & Tears, Fly on The Wall Press, Icarus and Mindful Seasonings. In May 2021, Burning Eye Books republished Desree's first pamphlet I Find My Strength In Simple Things.
Jill Abram
Jill Abram grew up in Manchester, travelled the world and now lives in Brixton. She worked for BBC Radio, specialising in making sound effects for comedy programmes. She has performed her poems across London and beyond, including Ledbury Poetry Festival, StAnza, Paris, USA and online. Publications include The Rialto, Magma, Ink Sweat & Tears and Harana. Jill produces and presents a variety of poetry events and she created and curates the Stablemates series of poetry and conversation. Her debut pamphlet, Forgetting My Father, will be published by Broken Sleep Books in 2023.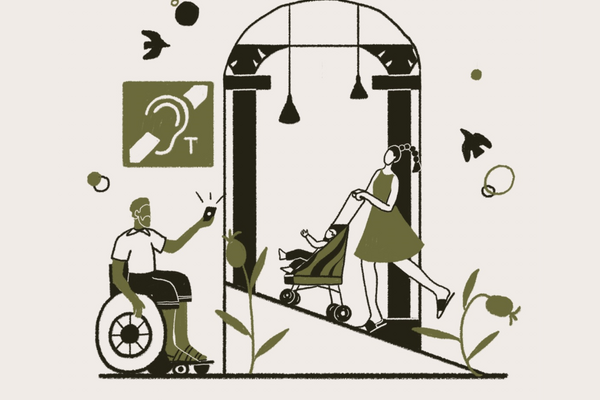 Carers & Companions
We offer a free Personal Assistant / Companion ticket for every access booker who needs one.
Find out more