Arsenal of Sounds - Raka & Balamuc
Rhythm Passport presents
All aboard the Balkan Express!
Hop on board a rhythmical and fun-filled musical journey through Eastern European traditions accompanied by Raka and Balamuc.
Scheduled for 8pm on Friday 2 December from Beanfeast at Woolwich Works, you'll be led on a rapturous tour exploring the rootsiest, danciest repertoires of the Balkans and beyond.
Both Raka and Balamuc have dedicated their musical careers to letting the Danube's soundwaves flow on the Thames too. Both bands have brought the most authentic aspects of Eastern European musical traditions to London, jazzing them up with sparks and twists influenced by the kaleidoscopic music scene of the capital.
So, for the December appointment of Arsenal of Sounds, join us for a musical crossing of the Balkans!

Raka
Raka are an 8-piece ensemble that play traditional music from the Balkans with a strong focus on the folk music of Bulgaria and Macedonia. The unmistakable groove of Raka brings everyone to their feet.
Raka's meandering musical tributaries all lead to one communal river: the love and commitment to understanding and interacting with the music of the Balkans. They bring to life a genuinely authentic repertoire wherever they are, from sweaty back rooms of North London clubs to concert halls on the banks of the Thames.
They took their name from a dance as that's what they love to do. A heart-rending lament can move the body as much as a pounding Bulgarian Pravo, and Raka have made space for both, and everything in between.
"Absolutely magnificent, no one can sit still listening to Raka!"

DJ Ritu, Resonance FM
Balamuc
Balamuc are a unique collective of experienced musicians, with seven members from countries in Europe, the Middle East and the Pacific.
Their music originates from Eastern Europe but stretches way beyond the usual confines of their genre. They aren't afraid to step into new territory (from Romania to Hungary via Transylvania!)
Although renowned for their fierce violin and heartfelt melodies, Balamuc are best known as their life affirming, uplifting party spirit and boundless energy. The 7-piece band features Agnes Branner on violin and vocals, Marie Faucher on clarinet, Alison Geasure on cello, Jon Clayton on double bass, Luke Tremlett on guitar, Semra Bulut on darbuka and Seppi on drums.
Balamuc has established itself as one of the leading Gypsy folk bands on the live scene today. With the name translating to "house of the insane', don't expect to stay in your seat!
'Hailing from Eastern Europe and elsewhere, the members of Balamuc joined forces in London where they have produced this musical tour of the Balkans and surrounding areas... guaranteed to get the dance floor whirling.'

Songlines magazine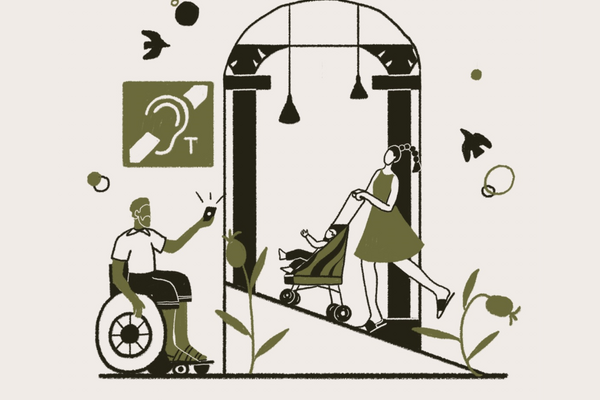 Carers & Companions
We offer a free Personal Assistant / Companion ticket for every access booker who needs one.
Find out more