Arsenal of Sounds: Imperio Bamba + Alex Etchart & Vientos
Rhythm Passport presents
The final destination of our monthly musical journey around the world will be a full immersion in the colours, rhythms and sounds of Latin America
Imperio Bamba and Alex Etchart will present a thrilling double-bill performance leading the audience on a journey through the diverse expressions of South American music.
Imperio Bamba's 'chichafrodelic' sound, which blends chicha, Afro-Peruvian, salsa, and electronic rhythms, will combine with Alex Etchart's band Vientos, who fuse South American folklore, British and Irish folk, and electronica.
This event offers a unique and unforgettable opportunity to experience the dynamic and eclectic musical traditions of South America through the perspective of two distinct acts. Don't miss out on this celebration of community, diversity, and music!

Imperio Bamba
Imperio Bamba was formed in 2016 with the goal of sharing stories of immigrants and creating a sense of community, far from home. The group's EP Mis Cosas Favoritas showcases their experimental sound and diverse range of styles.

With soaring guitar riffs and raw vocals, Imperio Bamba's motto 'find the place and space where your body and mind feel free' sums up their mission to create an electrifying experience that brings people together.
North London-based Imperio Bamba perform psychedelic, funked up immigrant songs using guitars, synths, catchy lyrics and Afro-Peruvian percussion to express why freedom of movement is essential for every individual

Sounds and Colours
Alex Etchart & Vientos
Alex Etchart is a British-Uruguayan artist who uses theatre, music and film to amplify marginalised communities across the UK and internationally. They are a multi-instrumentalist composer and leader of the band Vientos.
The band brings the rich, melancholic sounds of South American folklore into wild electronica and breathes new life to British and Irish folk songs. Their music weaves LGBTQ+ realities and diasporic memories through multilingual melodies and danceable basslines, welcoming us to be everything we are without holding anything back.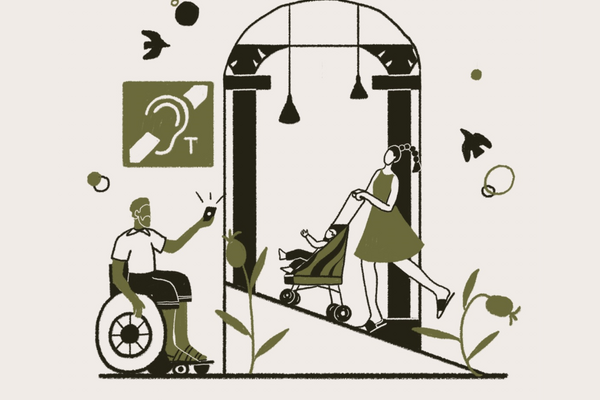 Carers & Companions
We offer a free Personal Assistant / Companion ticket for every access booker who needs one.
Find out more