Arsenal of Sounds - Amaraterra & Simo Lagnawi
Rhythm Passport presents
The Mediterranean Rhythmic Connection
Journey across the Mediterranean from Southern Italy to Morocco at the third instalment of our Arsenal of Sounds series.
At first listen the two folk music traditions of Pizzica from Puglia in the South of Italy and Gnawa from Morocco are worlds apart, but there's a common rhythmical thread that links them together. This concert is going to pull that thread out and dance to it with the help of Amaraterra and Simo Lagnawi & Gnawa London.
These two unmissable acts are exciting, forward-looking London interpretations of quintessential Italian and Moroccan musical traditions. Their London residency has helped these musicians to bring new life into century-old rituals, without losing sight of their inherent power and significance.
Join us for the rapturous rhythms and hypnotic dance moves of pizzica and gnawa!

Amaraterra
Formed in London in 2011 by a group of passionate expats from the Salento region of Southern Italy, Amaraterra has grown into a multi-national ensemble, presenting its audience with a joyful and energetic selection of pizzica and roots music from all over the south of Italy. They have adapted their style of music to the vibrant and cosmopolitan world music scene without weakening the links to its traditional musical canon.
Simo Lagnawi & Gnawa London
Simo Lagnawi, a Maalem (Gnawa master musician) from Morocco, is considered to be the leading exponent of Gnawa music in the UK today. An innovative performer, he has collaborated in a range of musical genres as well as composing new works in traditional Gnawa style. His performances include acrobatic dance as well as vocal chants, guembri and krakeb playing.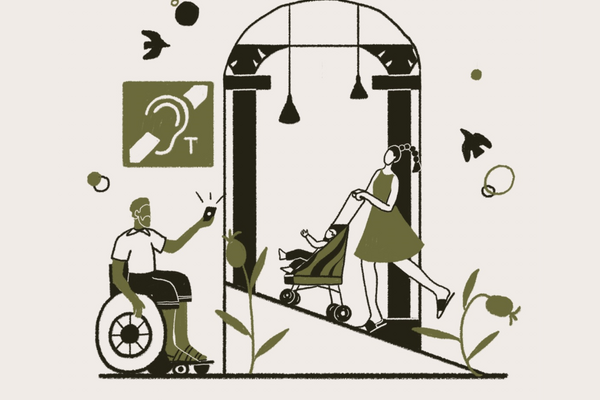 Carers & Companions
We offer a free Personal Assistant / Companion ticket for every access booker who needs one.
Find out more